The
Journal
Some insights into what makes Botanique unique! You'll also find some guest writers too, sharing their thoughts and talents. Enjoy a little light reading!
Shrewsbury, what makes it special?
Well, apart from the fabulous flower and botanical shop at the top of The Wyle Cop?!
Is it's 'Darwin' history, beautiful buildings and horseshoe river winding around the town? It's endless festivals, arts trail, theatre, the longest street of uninterrupted independent retailers (one of which I am) or its award-winning market hall?
Maybe it's the abundance of privately run restaurants and coffee shops, the choice of cuisine they offer in quirky buildings on every street?
Could it be the surrounding countryside, the walks, country villages, and hills to view the county and beyond?
It's all those things, but for me, it's the people that make Shrewsbury special, the jewel of Shropshire.
The people who visit for days out, for those that choose to enjoy a staycation here, and the locals who support their town so diligently. Shrewsbury supports its local businesses over the 'big boys', and for that I have endless gratitude, it's not an easy time to be a business owner and every sale is greatly appreciated.
We all pour our heart and soul into our businesses, working day in and day out to keep this town buoyant and vibrant, to not let it fail where others have. So, if you are looking to spend a day mooching around a town, spend a little money and support a town working hard please come and visit us, you won't be disappointed and, I promise you, we will be delighted to see you!
Botanique, Shrewsbury's main Wikholm stockist
I always want to sell things that I love and would have in my own home and garden – come to think of it – I own a lot of my own products; perk of the job I guess?!
The Swedish company, Wikholm, feature heavily, for very good reasons; there design, materials and colour are akin to me and my brand. I particularly love all their metal pots, especially the green tones – perfect for complimenting plants.
Mind you, the rust metal ware comes a very close second, love the vintage vibe of it all, and the lack of shine. I'm not a magpie at all, subtle is the way to go for that, "I've had it ages" look!
Their hanging planters, baskets and orbs are fabulous too, some rust metal one's feature in my garden hung from tree branches. They get planted in summer and filled with bird food in winter; it's a very stylish way to feed the birds!
As Shrewsbury's main Wikholm stockist I do have a lot of their gorgeousness in the shop, however, I can access the whole range, so, if you see any of the larger pieces you like please get in touch and I can always tag your items to my next order.
Meanwhile, it's time to order for Autumn and Christmas, so much choice, so many decisions! But, as always, I will only choose what I'd have in my own home, and let's face it, I probably will take one of everything home!
Just a little FYI – I will never sell the gonks, they are the best gonks coming directly from Sweden but not my thing at all, I prefer to keep it natural!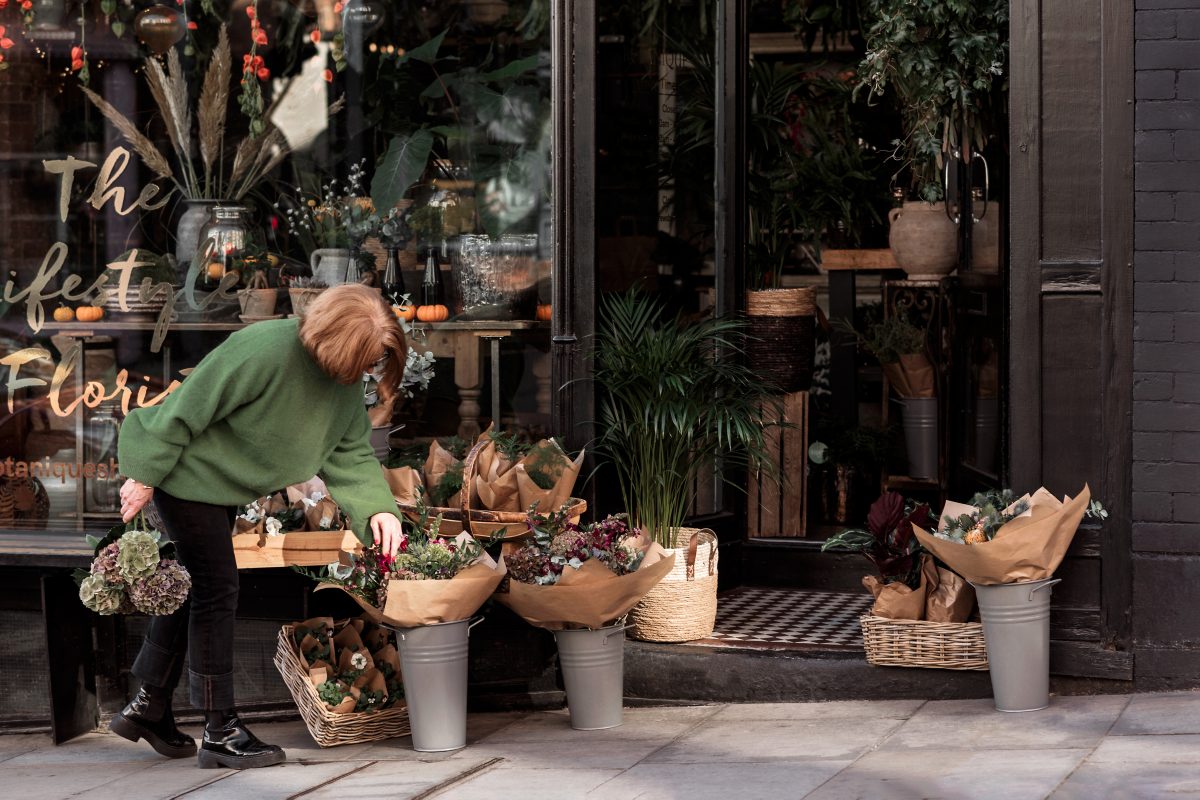 Is the big screen coming for me?!
Is the big screen coming for me?!
Probably not, but the small screen did!  Did I enjoy it? Yes, I did!
So how did I end up on For the Love of Kitchens?
Not exactly flowers or plants, is it?
This episode features a couple who live in Shrewsbury, love their home and garden, and like to bring the outside indoors using houseplants to accessorise every room.
The lovely couple are customers of mine, who one day rushed in full of excitement and cheer,
"Lisa, we are featuring on a lifestyle programme and have been given the opportunity to film in a Shrewsbury store to buy something for our new kitchen, and we just knew we wanted to come here.  Is that ok?"
Well, I wasn't going to say no! It was more than ok!  Alison and Paul are the kindest people for a start, and I'm always up for a challenge, plus filming sounded like it'd be fun.
And it was, once the crew could work out how to fix my microphone, wearing a jumpsuit wasn't altogether a good idea and we'd had a good chat about George Clarke we mapped out a plan and settled down to filming.
I thought I'd be nervous but because Alison is super chilled, the film crew just got on with it and I was in my happy place it was easy; I just did what I always do, and they filmed it.  No sooner had we started, we had wrapped (as they say).  Off Alison went down The Wyle Cop with her plants, the film crew following and filming, wow, all done quickly and without any fuss.
Alison and Paul continued to film whilst there beautiful Devol kitchen came together, and then we waited for when it'd air on TV.  We filmed this time last year, so have exercised much patience.
America came first in January; did I say I'm an international TV personality?!?  And then finally this month news came, I was to be on TV on Easter Monday, fab, I can eat chocolate whilst watching.  I messaged all and sundry, "I'm on TV, Channel HGTV at 9pm, 10th April".
No spoilers, but I have had a sneaky peak at the programme, and I have to say it's a beautifully happy story, told with humour and warmth.  Alison and Paul are the stars of the show for sure, and I'm just happy my bit didn't end up on the cutting room floor!
What will happen next? I don't think Hollywood will come knocking, but I did enjoy doing it, so who knows? I'll put good vibes out to the universe and see what happens…
Bring some spring sunshine into your home
Ok, it takes until April to remove our thermals in the UK, and for it really to feel like spring outside, but inside my shop in the heart of Shrewsbury, Spring is in full swing.  It's the time to kiss goodbye to the dark days of winter and embrace some colour in our homes with the bounty of spring flowers available.
And the best bit?  It doesn't cost the earth or test your flower arranging skills to introduce some spring flowers into your home.
Simplicity is best, it's a group of flowers that look best as a single bloom vase, if you want to add some extra va va bloom(!) pop out for a walk and gather some twigs and catkins to add to your spring flower vase.
Want to make more of a statement?  Gather three complimentary vases, fill one with tulips, one with anemone, and another with hyacinths and display them together on a wonderful big tray.  To create atmosphere, add a fragranced candle, light it in the evenings, sit back and admire your floral art!
And if you want to have something long lasting?  Buy some bulbs, pot them up into a beautiful pot or bowl and have them in your home now, once they've bloomed plant them in the garden, you'll enjoy them every year for years to come.
Whatever you decide, some spring flowers will defiantly lift your mood and make you smile, and that my friends, is priceless.
How many flowers can you think of that have their own vase?
I can only think of one – the tulip! And displaying your tulips in one of these funky vases is a big trend for this spring, fashion and history are inexplicably linked and flowers are no exception.
What is a tulip vase, and where did it come from?
Tulip vases are a belly shaped ceramic vase with 'spouts', each spout allows you to display a single bloom so you can really observe its individuality. Originally made in delft pottery they are now made in many ceramics, colours and shapes.
Tulips, now synonymous with Holland, probably came from Turkey in 1593, and quickly became a luxury and expensive flower popular with courtiers, county gentlemen and rich merchants.
Tulips were so expensive they were sold individually and those who could afford them wanted to show off their blooms in a dramatic style. The tulip vase was born!
Designs were big and non were more striking than the Blue Delft vases during the 17th century. Have a google if you want to be impressed and get some inspiration! It is thought the first vases travelled to the UK from Holland with Queen Mary II and her Dutch husband William of Orange; the English court was charmed and soon became hooked, the bigger the better…..and, here we are in 2023, embracing new designs in this unique vase.
Perhaps because our love of tulips is a strong as ever, and these vases really do make a statement and let the flowers sing.
Here at my Shrewsbury shop they are a little smaller than Queen Mary's but just as beautiful, come and see them and let me know what designs you enjoy.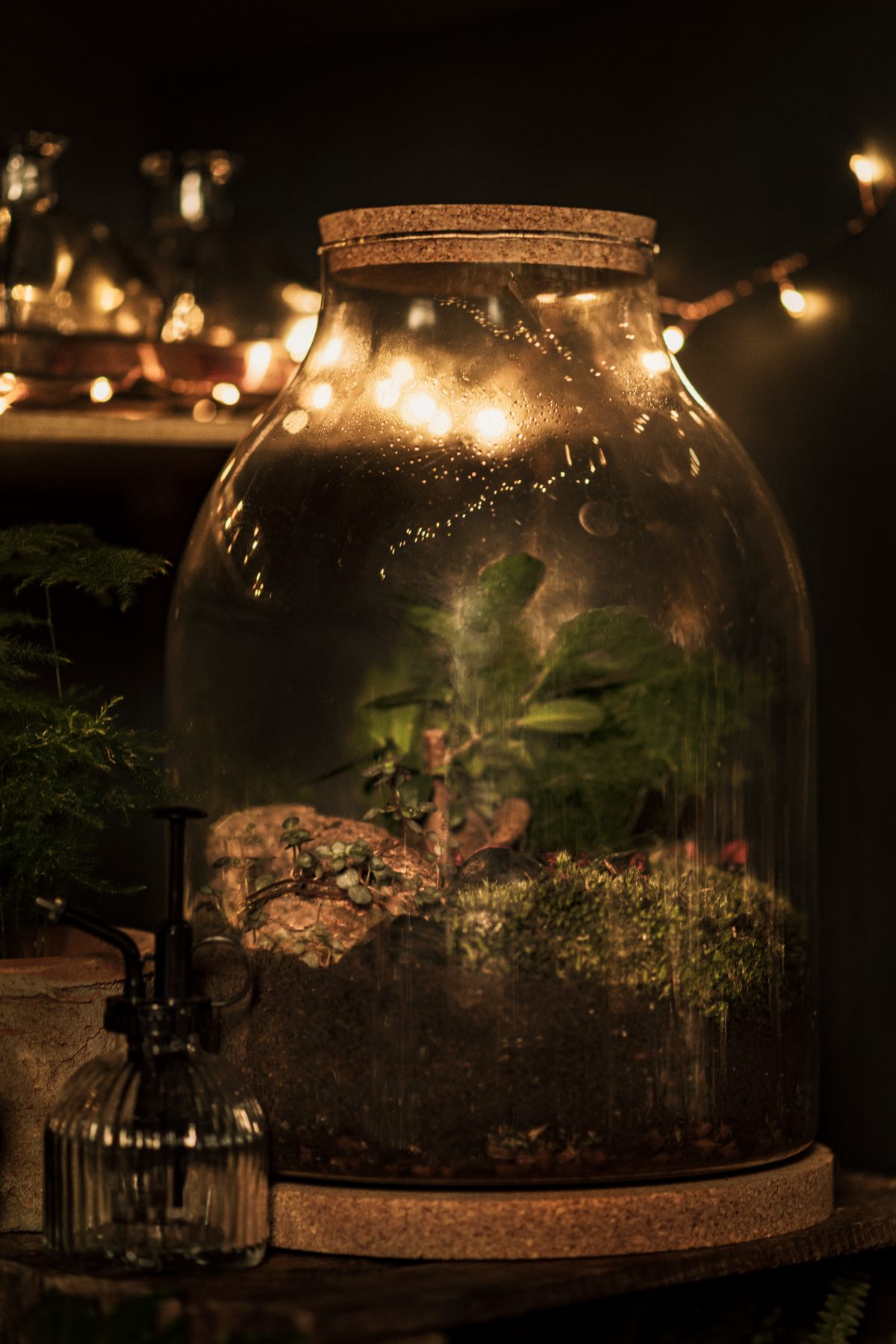 How to make your own terrarium
Terrariums are an enclosed, sealed glass 'indoor garden' housing plants that love clean air and humidity.  They develop their own ecosystem and require very little maintenance, day to day you can leave your terrarium to do its own thing.  If one plant gets too large you can cut it back and remove the debris.  You'll need clean, sharp, long bladed scissors and a pair of equally long tongs to remove the cuttings.
Bacteria is the enemy within terrariums, you must make sure everything you use is clean, and the plants are healthy and vibrant.
Ingredients List:
Glass jar with a close-fitting lid, it needs to seal the top.  You can buy cork tops in various sizes to go on a glass vase you already own.
Clay pellets
Charcoal fertilizer
Sphagnum Moss
Perlite or horticultural grit
Houseplant compost
A selection of small plants suitable for terrariums
Cuttings of easy growing creeping plants that have small leaves.
Bun Moss
Cork wood
Stones/Pebbles, these will need to be washed and sterilised in boiling water.
Depending on the size of the terrarium you are making will depend on how much of the above you need, but you do not want to over crowd your terrarium; you need to leave space for the plants to grow, you're creating a miniature landscape.
Mix your soil and perlite or grit, you want a 60/40 split.
Clean your terrarium glass jar and dry thoroughly.
Add a layer of clay pellets to the bottom of the jar, followed by a layer of sphagnum moss; this needs to be broken up into pieces and scattered across the pellets.
Over the moss add a fine layer of charcoal fertilizer, and then a couple of inches of soil. You will need to pack the soil down, and if you want to sculpt a 'mound' to create interest add more soil.  Take your time, a good foundation is key to a good long-lasting terrarium.
Clean any soil from the sides of your terrarium and clear away any mess.  You are now ready to design your masterpiece!
Layout your plants, bun moss, wood and pebbles how you'd like them to look inside the terrarium, think about colour, shape and form. And don't overcrowd things, remember the plants are going to grow.
To plant each plant, use a cane or something similar to make a hole to the size of the root ball, pop it into the hole and firm in the soil around the plant.  Each plant needs to be anchored and not wobbling around. Take your time.
Your bun moss needs to be damp, and eased into place, you can use a small paintbrush to push it into gaps.
Add your stones and pebbles, carefully, you don't want to break the glass! Small pebbles look good pushed into the moss.
Once you are happy with your creation, give it all a good clean, and polish up the glass.  Pop the lid on, it takes a few weeks for the terrarium to settle; it might create too much condensation initially, if the sides are very wet, remove the lid for a few hours, remembering to replace it!
Your terrarium will need to be in a soft light area, north facing is ideal and if you're working at home, it's a great addition for your desk!
Once your terrarium has settled don't be tempted to keep removing the lid, it has formed its eco system and the less disturbance it has the better.   When maintenance is required, make sure your tools are clean and sterilised, and any debris cut is removed.
If your fancy making yours within a masterclass keep your eyes open for our Terrarium workshops held at our Shrewsbury shop on a Thursday evening.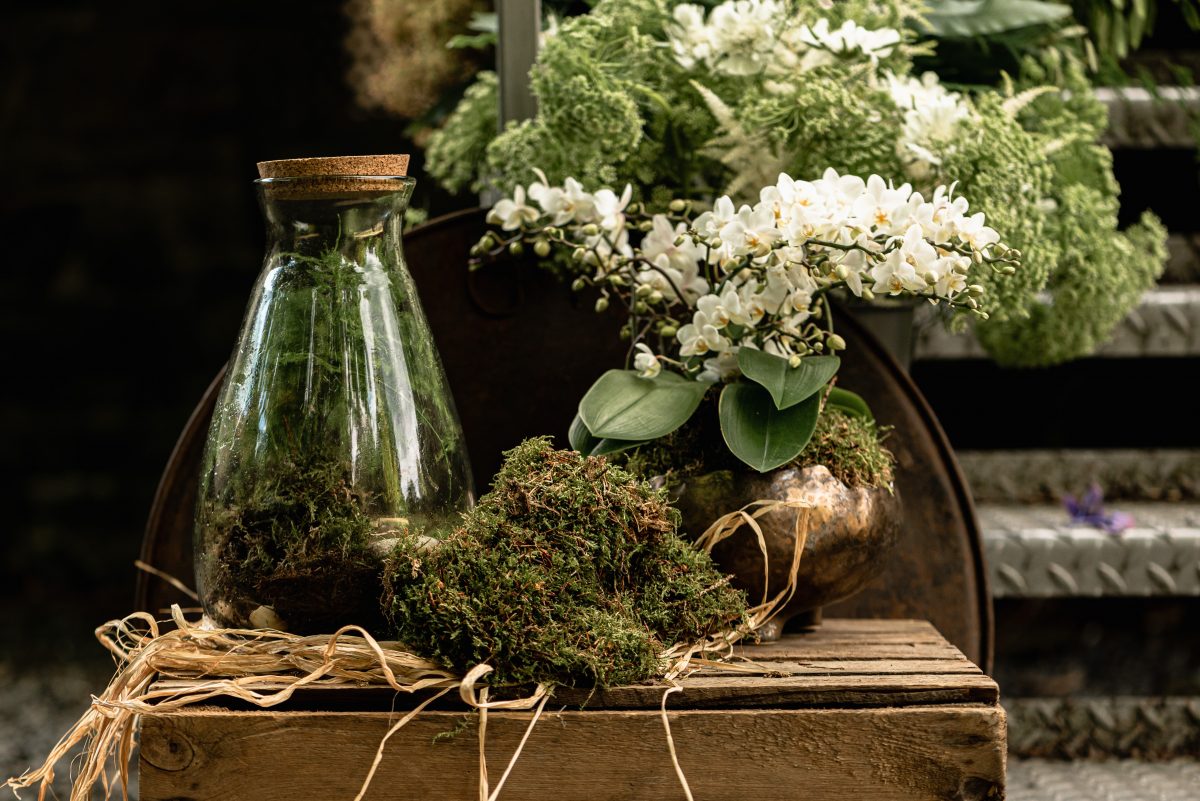 Why have terrariums grown in popularity?
Terrariums are a perfect, enclosed, self-sustaining ecosystem, with humidity, moisture and clean air, perfect for small exotic plants to thrive.
Why have terrariums grown in popularity?
Terrariums, a sealed glass garden, have had a resurgence, last popular in the 70's, what's made them popular again?
Let's look at the history of 'the bottle garden', an unintentional discovery by botanist Nathaniel Bagshaw Ward in 1842.  He was observing insects in glass jars, and noticed condensation developed during the day that collected in the base of the jar during the evening.   He added some leaf mould and a fern spore to a bottle and low and behold it grew!
Nathaniel went on to create a sealed mini glass greenhouse, The Wardian Case was born; it was used by plant finders to transport exotic plants from warmer climates and then by well off Victorians to keep their beloved tender plants in a clean environment as cities were polluted by industrious smoke and smog.
And is that the appeal?
We're no longer living in a smoke-filled environment, but we do live in sealed houses with heating and lighting drying out our atmosphere.  We are also time poor; terrariums require NO day-to-day care, maintenance is minimal, perfect for our busy lives.
I know, you're suspicious, a collection of plants that require nothing?!  Really, yes, nothing to do but enjoy!!   An occasional tidy is all that's required, no watering, no feeding, and no misting.
I will qualify this; it needs to be a sealed glass jar, those glass containers with a hole in the middle or open at the top are a different matter altogether!
They are fascinating to watch grow, an ideal desk companion; encouraging us to take five!  It's also a great learning curve for young people, if you want to make one yourself check out my blog on making your own terrarium.
And if you're wondering what to buy that person who has everything…. You may just have found it, they make ideal presents, and can be ordered by visiting the shop on Wyle Cop, Shrewsbury.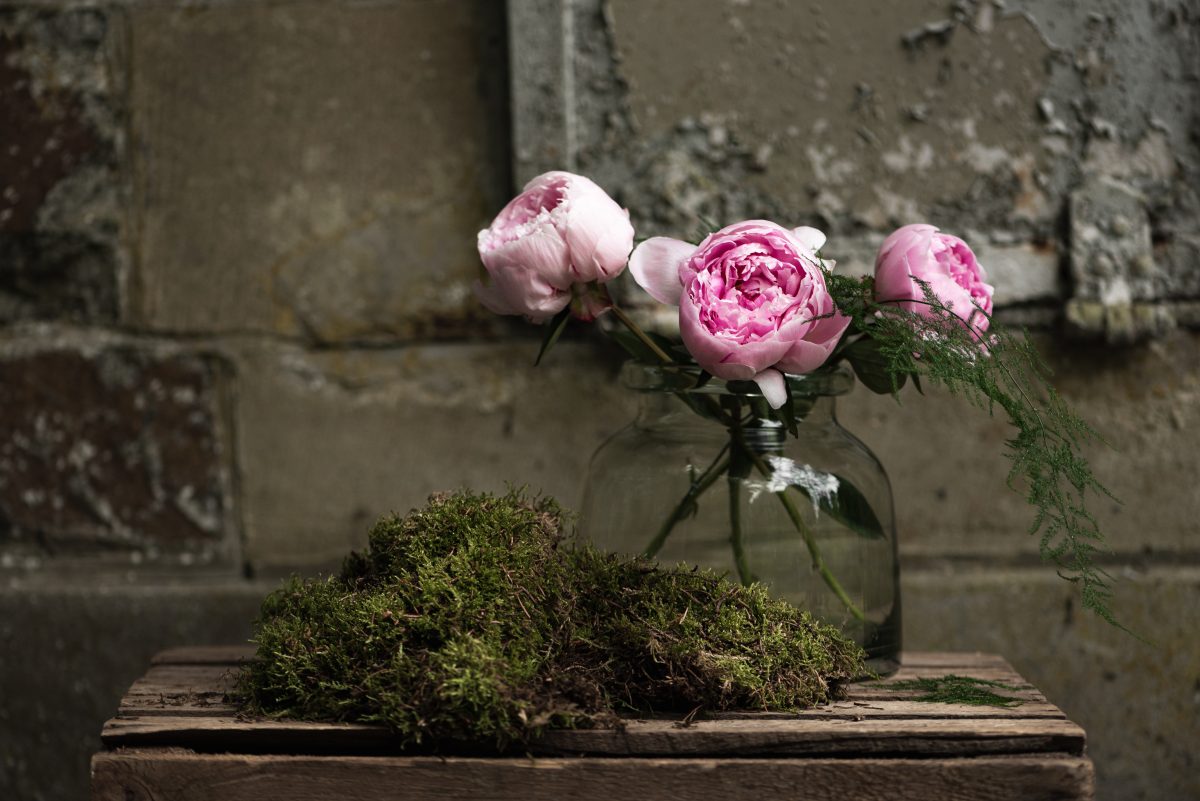 Moss you are oh so beautiful!
My name's Lisa, and I am obsessed with moss, but I don't need help or anyone to send me to moss rehabilitation!
Moss growing over stonework, on the floor of the woods, on tree branches, in my lawn; it is nature at its best, giving us a sumptuous richness in the shadows and shafts of light.
I love the textural beauty of moss, particularly bun moss, you just want to reach out and touch it, it sparks your curiosity and I love that.  It's why we adore our moss dome dishes, I promise you, you will reach out to touch it, it's calming and soothing.
I also love it as a base for other natural products, being inspired by where it grows naturally adding ferns, old wood, and stones.  We feature moss in our terrariums, creating undulating curves and texture.
And of course, it's a huge feature of our Christmas range, enhancing bulb dishes, no bulb is complete without moss; in fact, a narcissi bulb will grow wrapped in sphagnum moss, try it, keep it damp and watch what happens.  It's the base of our sustainably made door wreaths, enabling you to use it repeatedly, and, of course, as a moss lover I'm happy with a moss wreath, no need to add anything else!
Moss you rock and I love you!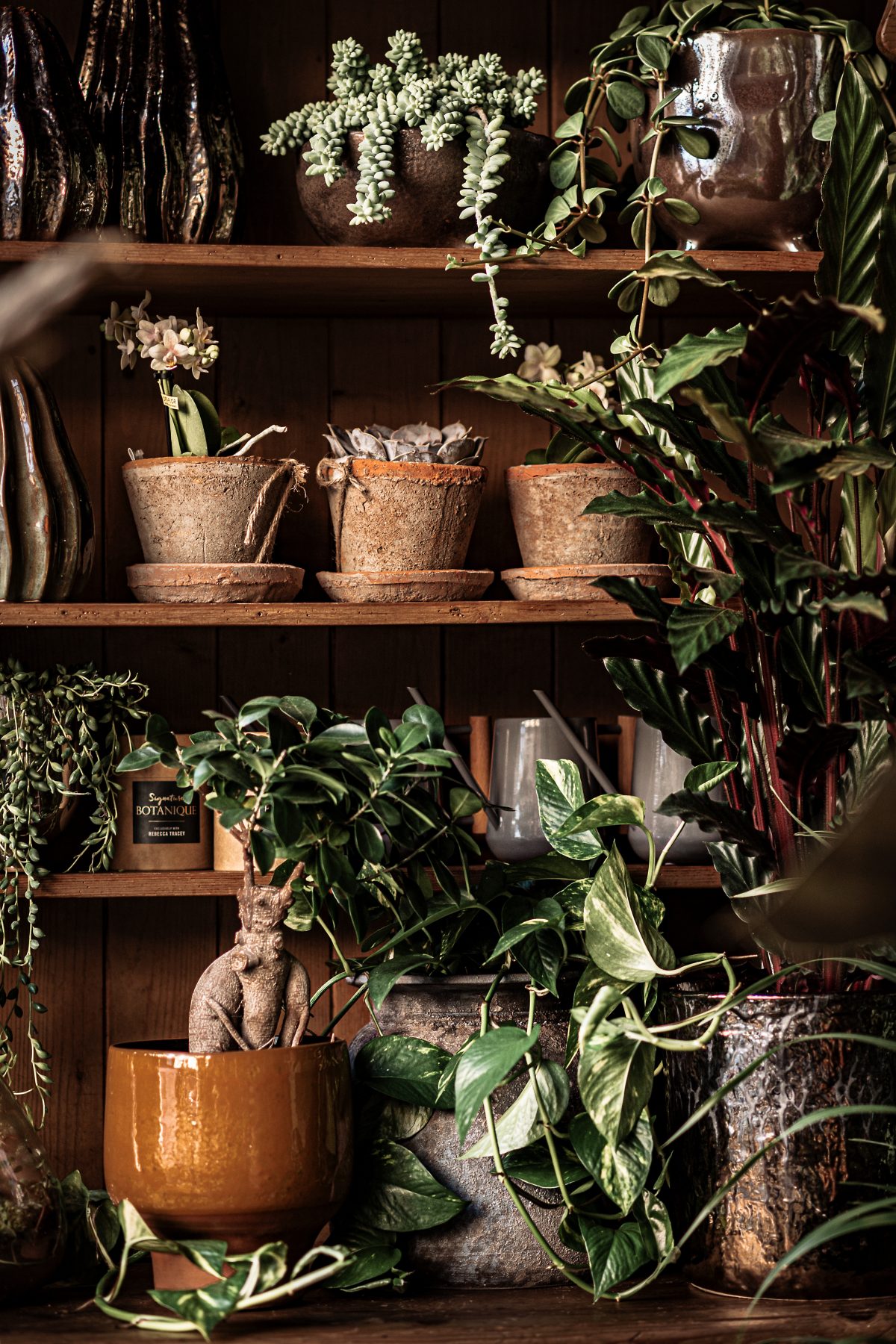 Becoming The Botanical Atelier
"What do other people call themselves, what are people expecting me to call myself; what and who am I in the directory of life? Oh, I don't know, it's complicated, I'll do what's expected of me and call my shop a florist!  That's best, and others will be comfortable with that"
 But it never felt right and confused people because I'm not a traditional florist, and my shop in Shrewsbury is not a traditional florist shop!
It's taken time and a serious chat with myself to find the words to describe me and my business, and during those chats, I've learnt that putting yourself in a box to suit others doesn't work, we should always be true to ourselves.
When I first opened the shop, I didn't have the guts to not use the word florist, I mean, I am a florist; I sell and arrange flowers, but my shop is so much more than flowers; it's full of other botanical delights, with a big accent on you, your well-being and styling your home with living beauty.
I'm inspired by European flower shops, nature, my gardening career, seasonality, textures, styling and being an individual.  I want to encourage you to explore the benefits of botanicals, the pleasure and calmness of bringing the great outdoors indoors.
One day the fabulous branding photographer Ruth Yardy approached me, she felt my message and branding wasn't right, so we set off on a journey of re-branding discovery!
This involved searching deep into my business, one unsurprising result was the lifestyle florist had to go, as I had no affinity to it, but what to call myself instead?
I aired Botanical Atelier with her, it had been in my head when I opened the shop, but I hadn't been brave enough to use it.  What did she think? Was it right, we liked the sound of it, but did it fit?
Atelier – a workshop or studio, especially one used by a designer or artist.
Botanical – relating to botany.
Perfect, my shop is a creative workshop of botanical artistry, in my world plants and flowers deserve to be styled fabulously in beautiful vases, and pots creating stunning living interiors that compliment your lifestyle and your home's décor.
I feel much happier, and my new branding and website was worth all the work, so don't try to fit yourself  into a box familiar to others that's not right for you; it's taken me 54 years and nearly three years in this business to find the bravery to be who I want to be, without explanation, without fear; be who you want to be, step away from the ordinary and be authentically, imperfectly you!  It's a good feeling, thank you Ruth for the confidence boost to go for it!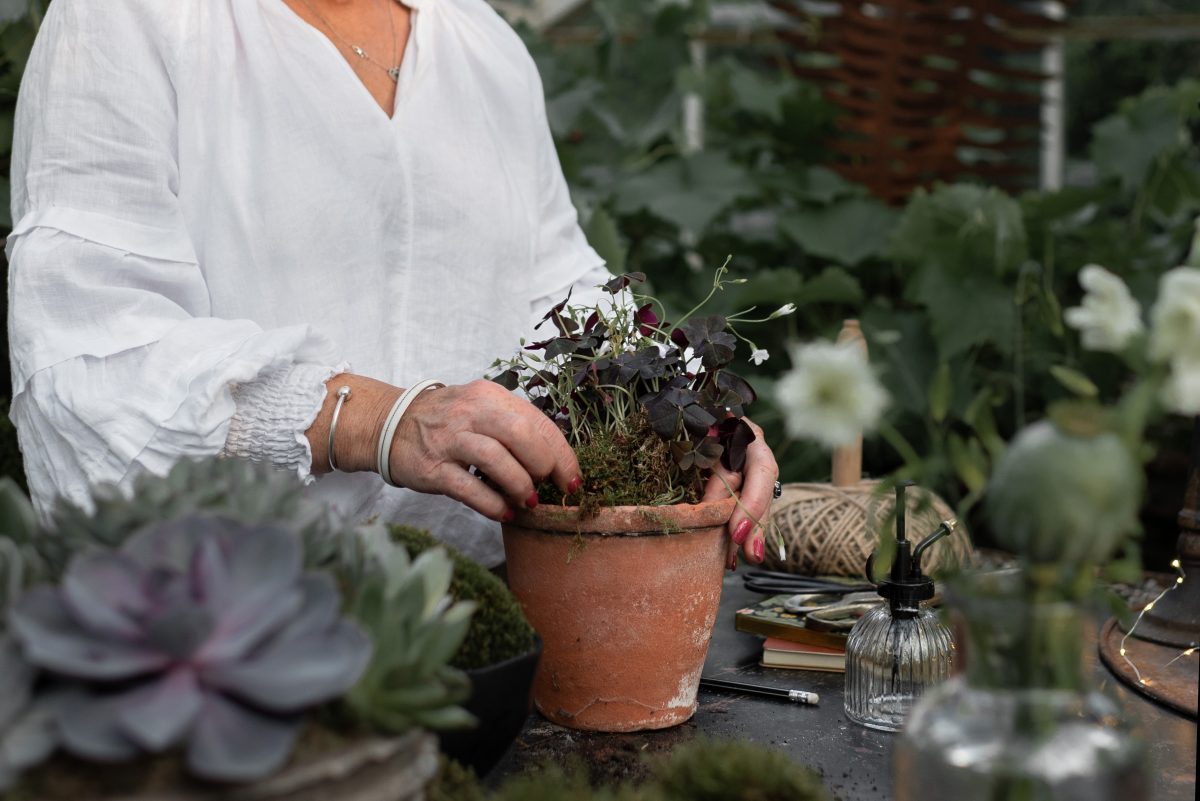 To Re-pot or Not to Re-pot?!
This is a question I get asked a lot!  And it's probably one of the things that worries plant lovers the most.
But, at some point during its life span your houseplant will grow too big for its pot and need to be re-potted into something bigger.
What are the signs my plant needs re-potting?
Houseplants do not need as much space around their roots as garden plants, they can survive with very little root space so don't be in too much of a rush to re-pot.  Only re-pot if one of the following is evident:
1: When the roots have filled the pot, a good way to check this is to squeeze the pot, if it's too solid to squeeze the plant is ready to re-pot.  You may also see roots growing out of the bottom of the pot too.
2: The plant lifts itself out of the pot; ferns are notorious for doing this!  You can see the roots forcing the plant to lift upwards, you will have an inch or so of soil above the top of the pot.
3: Your plant becomes sad, weak and sickly. Growth is slow, and you are constantly feeding it.  If feeding it doesn't perk up your plant, it really is desperate to be re-potted with some new nutritious soil.
This leads us on to choosing the right soil for your plant.
If your plant is a cactus, succulent, or sun-worshipping plant that loves free-draining soil use Cacti compost.  For all the leafy green plants like Monstera, Philodendron, and Calathea use Houseplant compost. Orchids like Bark compost, and Bonsai's have their own specialist compost.
Never use garden soil or multi-purpose compost! EVER!!
Right, how much bigger shall I go?
Not much! As I've said before, houseplants do not like wet soggy soil around their roots.
Your new pot will only need to be about 1-2 inches bigger than the original. And always use a plastic flowerpot, if you're recycling one make sure its super clean and sterilise with boiling water.
How to Re-pot your Houseplant
1) Gently ease your plant from its original pot and shake off any loose soil. Trim away any sad or damaged leaves.
2) Put an inch or so of houseplant into the bottom of your new pot and add your plant on top.
3) Fill in around the edges with new compost, making sure you have no air pockets, and the soil is tucked into all the gaps
4) Water your plant
The best time to re-pot your plants is April, once the heating is off and brighter days are here.
Happy Re-Potting my plant-loving friends,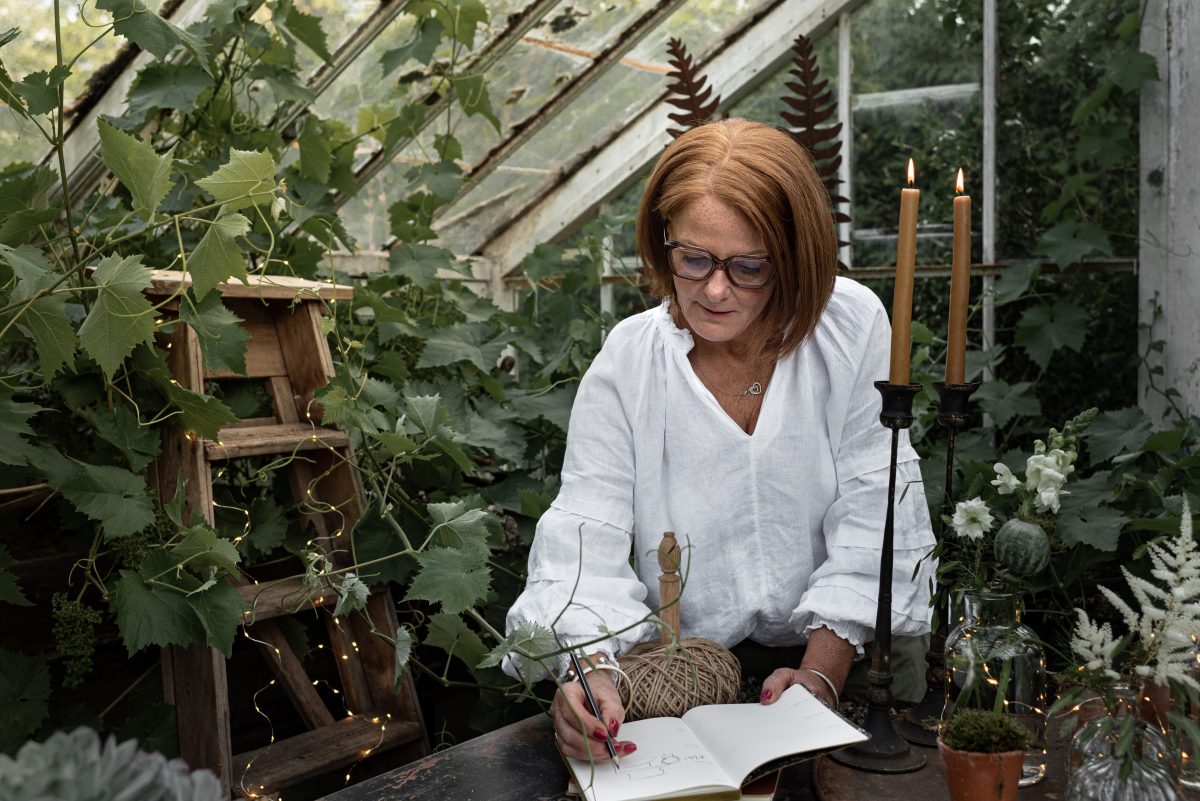 Tulips of Amsterdam
I'd love to go and visit Amsterdam when all the tulips are blooming, it must be quite a sight!
Although Amsterdam is considered the capital of the tulip world, tulips are also grown in both Greece and Turkey and are native to central Asia. They grow well in maritime areas where the climate is steady, with mild winters and summers, preferring sandy clay soil which is found in both north and south Amsterdam.
The first tulip bulbs were first introduced to Amsterdam from Kazakhstan during the 1700's and grown in a garden called Hortus Botanicus (isn't that the name of the gin Lidl produces?!)  At that time the bulb was worth the price of a house; no wonder people were so keen to sell them!  Tulipmania was born, it lasted around three years, the market crashed, and the bulb was no longer 'worth its weight in gold' but held its beauty and popularity.
Today you can visit a hundred different locations in Holland for the Tulip Festival, ride a bike and really enjoy the experience!  Something to add to my bucket list, will you add it too?
A few tulip facts:
They mean unconditional love, deep love – a perfect gift for so many
There are about 150 species with 3000 varieties and are part of the Lily family
The flower buds are symmetrical
Tulip petals are edible, (not that I want to try them, do your own research before you do I take no responsibility!)
Tulips continue to grow when cut.
Although it's a few months until tulip blooms are in our gardens, it's now an optimum time to buy them from your local florist who will have more unusual varieties.  They are many tips for tulips from adding a penny to the water to a pin through the stem, but my advice is to leave your tulips wrapped tightly in paper (or wrap them yourself – newspaper is fine), cut the stems at a 45 degree and place them in the vase for two hours before removing the paper.   This seems to stop the tulips from bending over, place the vase somewhere cool and light but out of direct sunlight.
Above all enjoy these seasonal beauties, nothing cheerier than a simple vase of tulips during this last month of winter.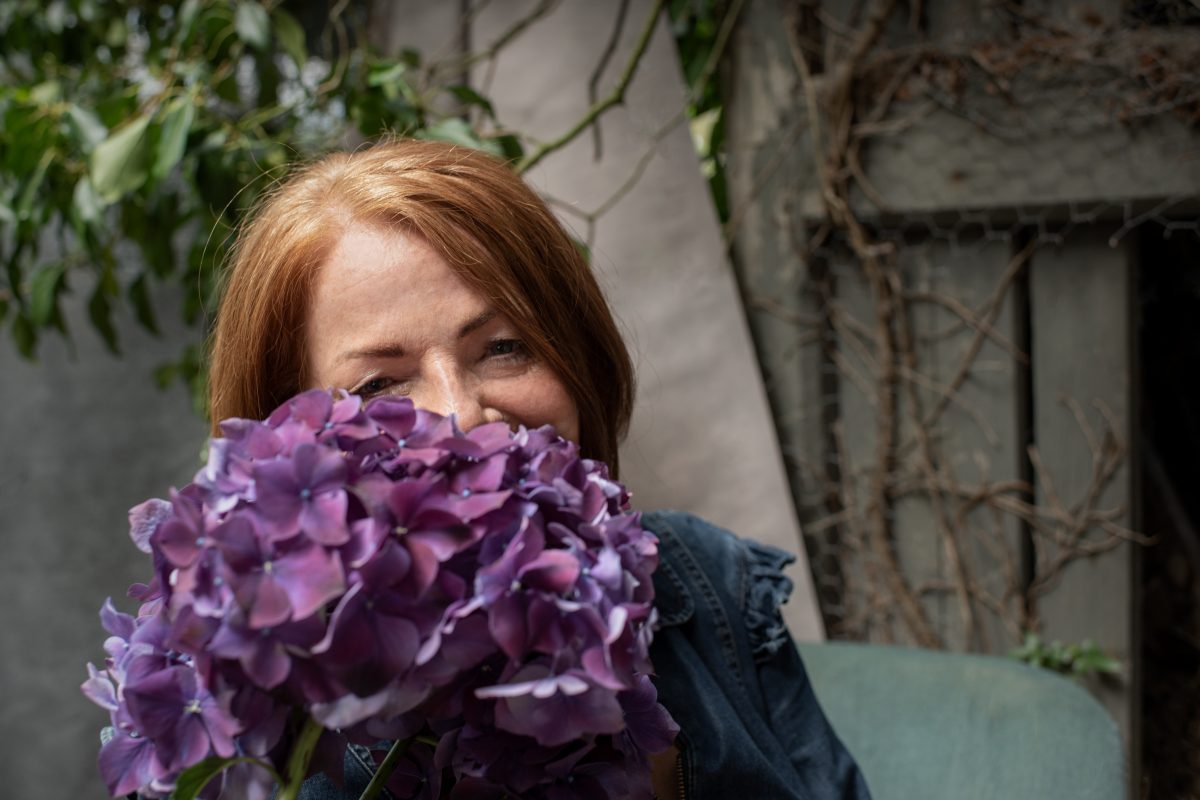 Here comes Valentine's!
Valentine's – Does it have to be red roses?
Absolutely not!  Not here at Botanique, I'm so over them!
It's taken thousands of years, the red rose and love go back to Aphrodite, but they are finally becoming less and less popular and more and more expensive.  This year the prices are even higher due to inflated transport and fuel costs – it really is the year to abandon the red rose!
They'll always be those that love them and wouldn't want anything else, and that's cool, when I was young, I couldn't wait for the day a man gave me 12 red roses!
So, if it's no to the red rose, what's it yes too?
There should be no surprise if you know me or my shop! Classic elegance all the way, white and green, with white roses (I'm not abandoning all roses!).  It's timeless, fresh, and utterly chic.  It'll always be my favorite, and what I love to create.
Seasonal flowers are of fabulous quality, and during February we have seasonal Lilac, Tulips, Anemone, Iris, and Mimosa.  So why not give your love a beautiful spring fresh bouquet, with all the promise of what's to come in your lives together, growing and flourishing each year.
Red is synonymous with Valentine's and love, and I love red mixed with soft pink and lilac, and lots of foliage; it's a vintage romantic twist to traditional Valentine's flowers.
Everyone loves to receive flowers, it's the most beautiful gift to show your love for someone who makes you happy, so go on….. choose your favorite, spring, white or romance and make someone's valentine's day super special!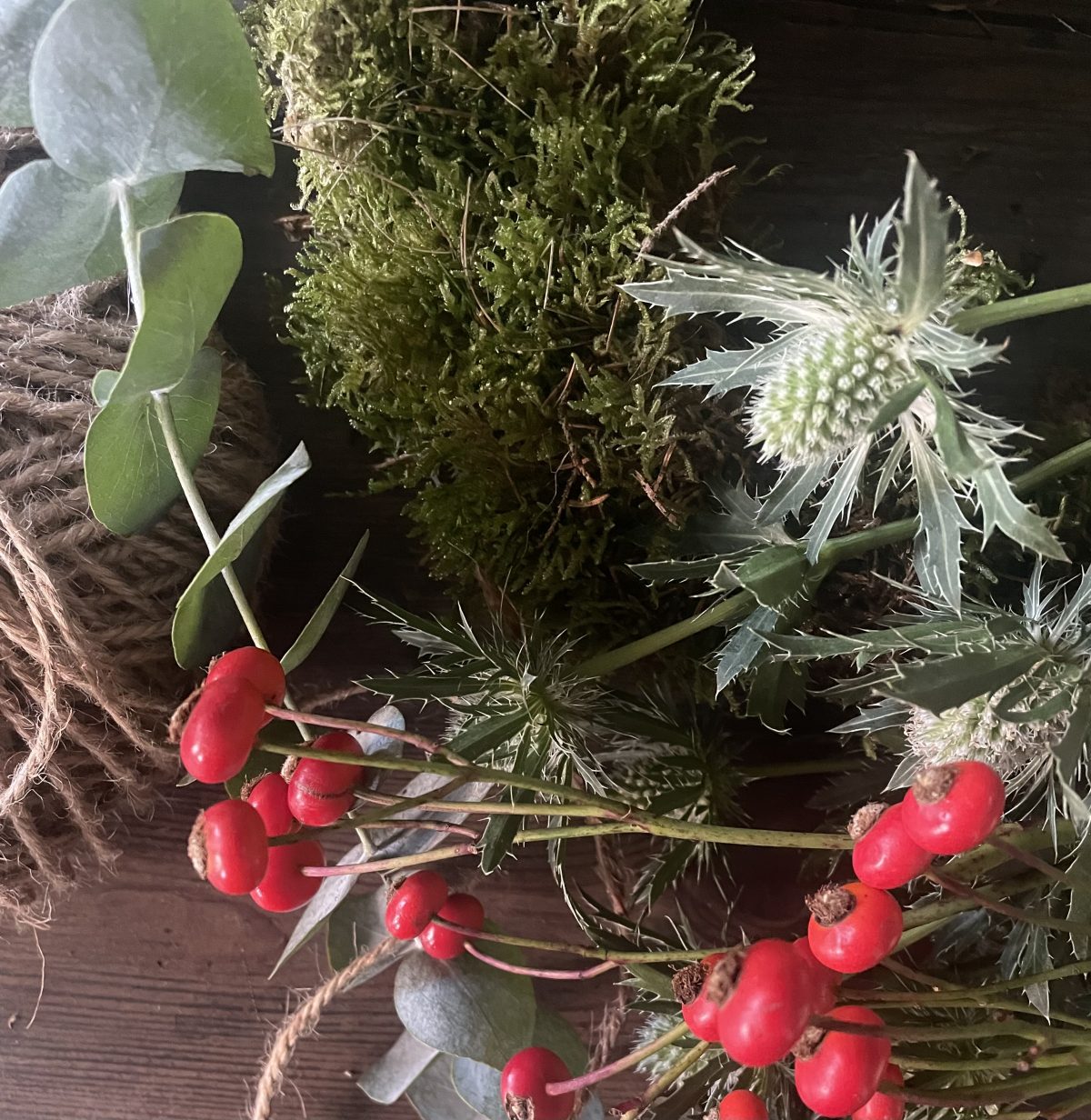 It's the C Word… in November!
If you feel like you've blinked and this year is almost over, I have to agree! Christmas comes round faster and faster each year and I for one cannot wait to get into the festive spirit.
Everyone loves decorating for Christmas and I think there is nothing more festive than decking the halls of your home with lush and fragrant Christmas flowers, arrangements and garlands.
Whether you decide to hang a glorious wreath from your front door, top your mantel with winter blooms or wrap garlands around the banisters, decorating with different types of Christmassy nature has endless possibilities. The winter greens together with gorgeous and bright berry branches and colorful wintertime flowers mean every inch of your home can be festive and fun.
While traditional holiday flowers include poinsettia, ivy, and mistletoe are festive, there are so many more ways to infuse the festivity of the season into your floral décor. For me, I am a huge fan of cymbidium orchids. These eye-catching blooms bring exotic glamour to Christmas with their long lasting, beautiful blooms in soft colours.
Another great way to add an extra flair to your wintertime décor is a planted container. I love to fill these with bulbs, hellebore and jasmine which look great anywhere in the house. They also make fabulous Christmas table centre pieces!
For something different, forgo the traditional red and green palette and instead use a mix of natural elements. I adore gorgeous rustic pots filled white flowers, mini topiary, herb, hellebore and plenty of moss.
If you want something different this year for your friends and family what about gifting one of my Christmas planters? Everything is sustainably made and the pots can be refilled and re-used so they really are the living gift that will keep on giving all year round.  So much fun, and a memory to cherish throughout the seasons.
I look forward to seeing you soon, and starting this magical season together.
Lots of Love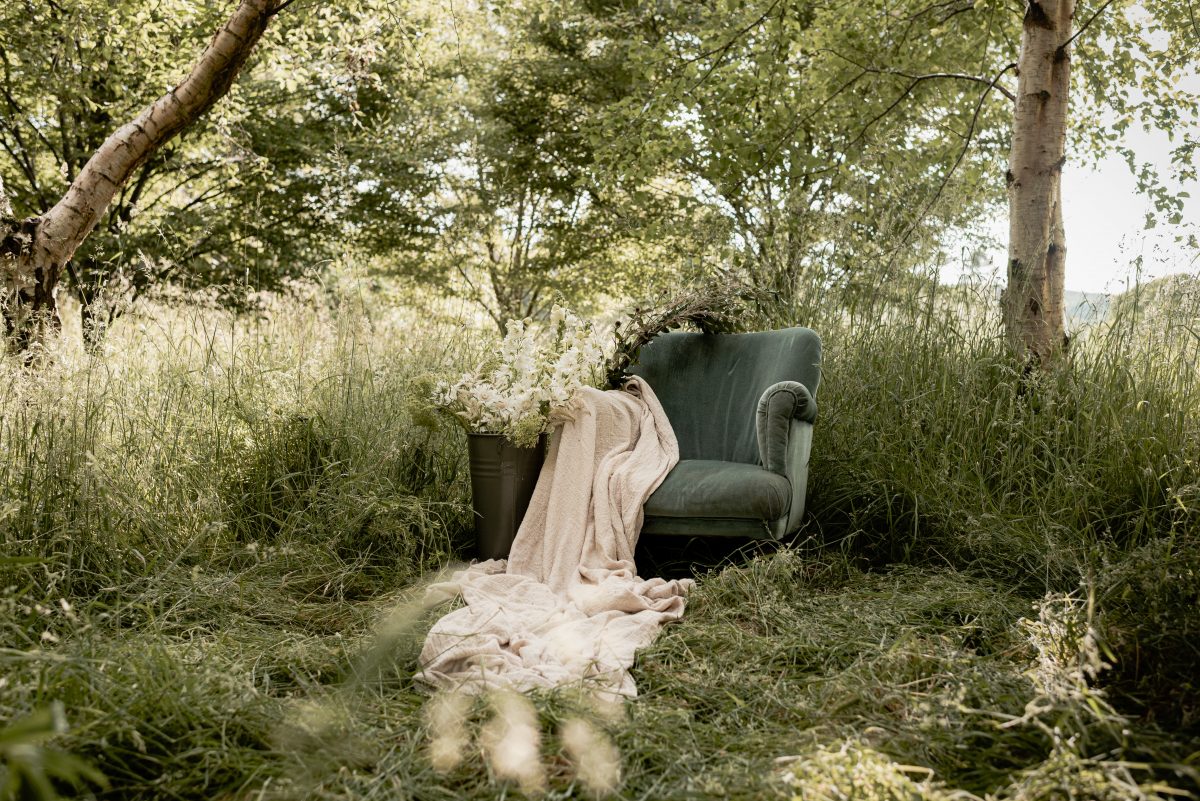 Plan your 2022 garden now!
Hey Hey September, where did you spring from?!
My favourite time of the year is here with its glorious colour; I do hope it's going to be filled with late sunshine and misty mornings.
September is a great time to look at the garden and see what needs changing for next year. Make some notes, take some photographs to remind you of jobs for winter and generally conjure up a plan of action.
It's a good time to assess what's done well and what has tested your patience!
Also use September to plan for spring bulb planting; think about variations of colour, flowering times, height and size, what would you like to see come spring?
This year I'm going to fill a lot of my big pots and new raised beds using the layering method of bulb planting, so I'll have colour from February to late April/early May.
First I'll prepare the pots with drainage and compost, bulbs prefer free draining soil so I'll mix some horticultural grit and leaf mould to the soil. I'll add a good layer into the bottom of each pot before I start planting.
For the raised beds I'll start with a layer of Alliums, in the containers I'll miss this layer out because they just aren't big enough! After covering them with compost, I'll add tulips, cover with compost, Daffodils (always white!), cover with compost then dwarf iris, cover with compost and snowdrops with grape hyacinths, finishing off with a layer of compost.
You can break rules! Because you will remove the bulbs once they have flowered you can pack them in, plant more closely than your would in the garden. You want your container to be a super glorious!
All bulb packets come with planting depths in the instructions, so just look and see what order your own choices should be planted. And don't worry they will all grow through each other, it's a really great way to get the most out of your pots!
And if you want it to look good now, add some Viola to the top! Water it in, and keep the Viola watered until the first frosts appear.
My smaller pots I'll fill with one variety of bulb, I'll match the size of pot to the size of flower and place these around the garden once the weather improves, during winter I'll place them somewhere sheltered out of the worst of the frosts.
So have a go, plan your 2022 garden and plan some spring sunshine!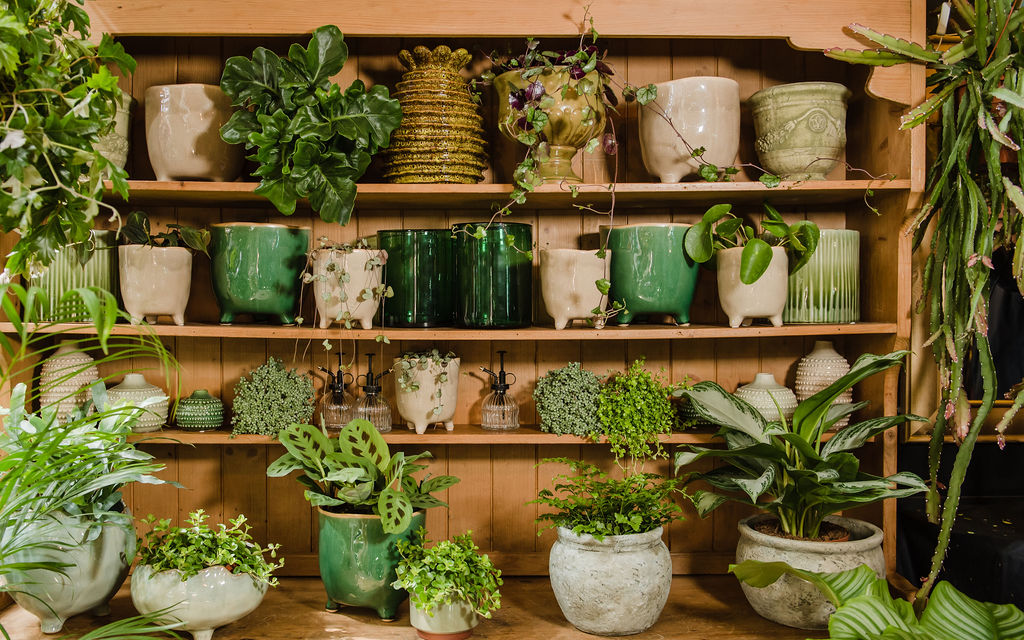 Houseplant Holidays
August, for many of us, is traditionally our time to take a holiday although for a second year in a row it's different again!  Are you going away? And if you are, will it be a UK staycation or are you brave enough to adventure abroad?
I'm not sure going abroad is worth all the hassle, plus I'd spend my holiday fearful of having to down my margarita and make a midnight dash to the airport!!
Wherever you might be going, a couple of days before you leave you'll suddenly look around at your happy houseplants and wonder what to do!  Risk a friend (over) watering them? Leave them in the bath? Or just lock the door and hope for the best?
None of the above is the answer!
Here's what's worked for me, even when I've been away for three weeks.
Most houseplants are happy to be watered well once every two weeks; so give your plants a good watering the day before you leave and move them all to a cool room, away from direct light, with them grouped together to create their very own microclimate. The bathroom is an ideal place for this.
For plants that require a little water once a week; water them the day before you go, then group them together on a damp towel in your bath or shower.
This will keep your green beauties happy while you are away and you can enjoy your margarita wherever you may decide to go – wishing you all happy and safe holidays – mine's not until January!
Lots of Love
Bloomin' Hydrangeas
As Peony disappears from view a new flower is in town!
Gorgeous Hydrangeas with their big blousy heads in an array of fabulous colours; I bloody love them!
The name Hydrangea comes form the ancient Greek for water vessel. It's apt as they are thirsty plants and cut flowers, the latter needing fresh, clean deep water.
Tips for looking after cut hydrangea: You should always get them into water quickly to prolong their vase life; they're not a flower that copes with being out of water for too long. I pop an unglamorous poly bag over the cut stems to help with the transition from the shop to your home!
Before you place them in your sparklingly clean vase remove any leaves so water goes straight to the flower head and cut the stems at a forty-five degree angle. We do this so the stem doesn't sit on the bottom of the vase unable to drink water.
Also cut up the stem, this gives a bigger surface area for the stem to absorb plenty of water and keep your vase of Hydrangea somewhere cool, changing the water daily, for prolonged flower life.
They are utterly glamorous blooms, adding size and glamour to a bouquet as well looking equally impressive alone.
So how do you style them in your home?
A fabulous way to style them is individually in fabulous narrow vases, in odd numbers. The vases don't' have to match, either choose all ceramic or all glass; vintage shops are a great place to find some alternative classic vessels to compliment your home and décor. Choose different sizes so the flower heads are at different heights and make sure the vases are super clean before using them.
Display them linear, on a mantelpiece or console table with the heads all facing the same way or group them together with the heads facing different ways in the center of a table, you could put them on a large tray for some extra styling.
Either way, flowers for your home don't need to be complicated; you just need to style them rather than plonking them in a vase!
If you fancy taking styling flowers and plants to the next level while enjoying some fabulous food and company at The Olive Tree Shrewsbury, then check out our workshops, a full list is on the website.
With flowery regards,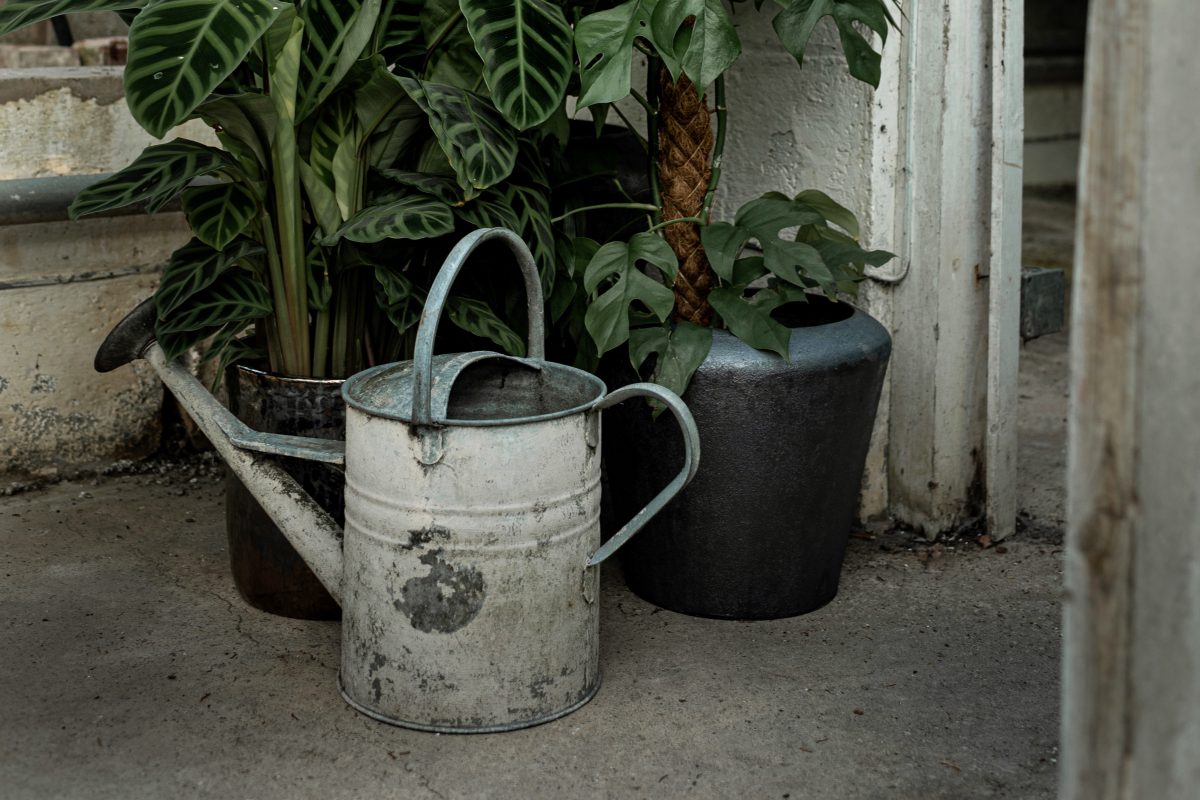 Gimme a cool drink!
Tips for Happy Plants Tip #23
Your plants will need a little extra care this hot weather.
Any next to windows will need moving back a bit, particularly during the day, you'll be surprised how quickly they can scorch and dry out.
Up the watering slightly, and mist each day, morning and night when it's cooler.
And remember keep flowers away from the sun, pop them in the coolest room in your home and change the water everyday.
Phew! Who would of thought the sun could create so much work!!
Great to have it though ?
I'm in need of a cool, refreshing drink, beer anyone?!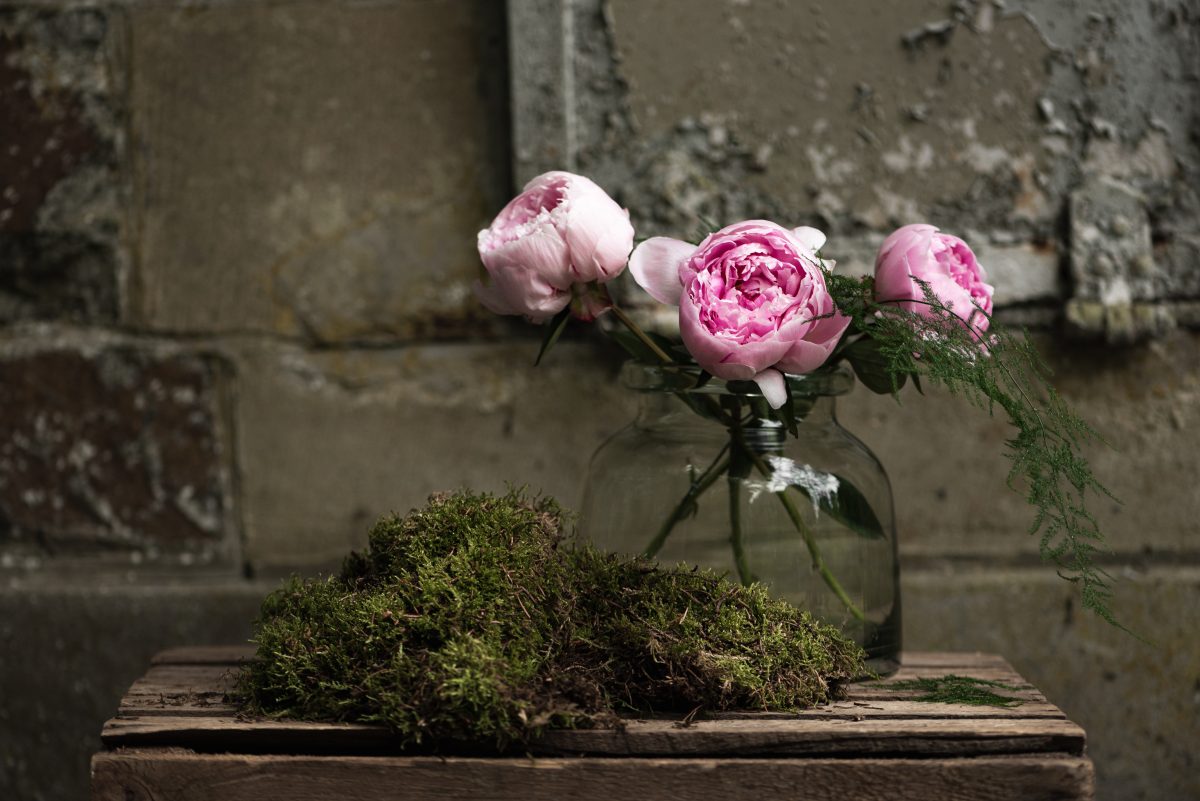 May on the way?
Are we really heading into May?
Peonies! I don't know about you but I have my woollies on today…
But come rain or shine these beauties come into season. What makes them so special, apart from they're natural beauty, is they are only around for a short time, blink and you miss it!
So we'll be making the most of them, they'll feature in bouquets from next week until they disappear from view.
Peony lover or not? Which summer blooms are your favourite, I'm a delphinium lover too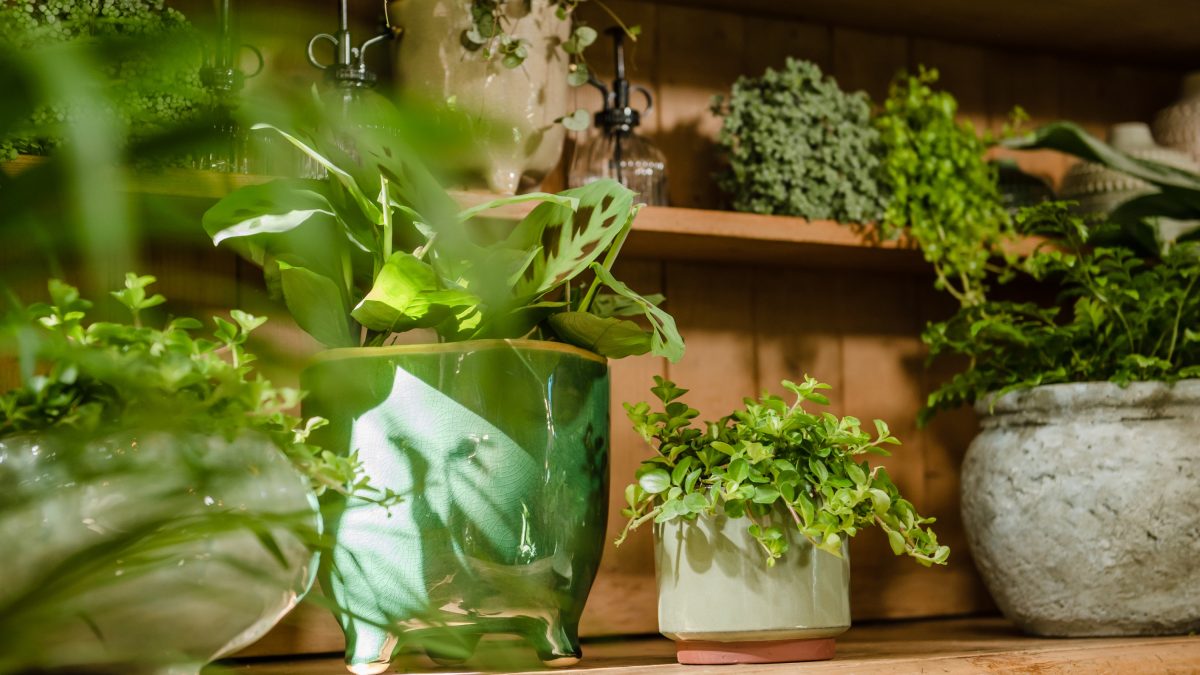 Houseplants
Tips for Happy Plants #12
The benefits of having houseplants in your home are well documented and for some of us they bring a sense of calm and tranquility; they behave perfectly well and never put a foot wrong.
And there are some of us who love them but just can't keep them.  Why? What's going wrong?
Let's assume you have the right plant in the right place, you have a sun loving plant in a light airy position or you've chosen a plant that loves low light because you have a north facing room.
If you have that correct and you're still not at one with your plant I'd lay good money down that you are a 'dribbler'!!  You continuously water your plants just a little bit every time you walk past, or you see your plant looking sad and just add water thinking it's the right thing to do.
STOP! PUT YOUR WATERING CAN DOWN!!
Your plant needs to be thirsty before he needs a drink.
The majority of plants (there is always exceptions to the rule) need a good drink regularly – often around every two weeks or when the first half of the compost is dry and the second half is drying out.
Only then do you water, preferably with rainwater, and you give your plant a good drink. How much will depend on the size of the plant, I tend to advise you give the same amount of water as the size of the plant pot.   Let the water drain, you need to remove the plant from its decorative container to water, only returning it once the excess water has drained away.  No plant wants to sit in a puddle!
Watering is all about being consistent, so set an alarm on your phone, or use recycling bin day to check your plants and only water them if they are thirsty!
Here's an additional tip.
Once a month soak a banana skin in a big jug of water for 12 hours.  Use this water to water your plants and they love you for it! You'll see the difference immediately.  If you have lots of plants then use watering can and pop multiple skins in to soak.  Potassium leaks out of the skin into the water and is a huge boost to your plants.
Season Edit: Go Yellow
Botanical Styling. Let's talk colour, yellow is this seasons trend.
Can you imagine this vase with three big artichokes placed in it, it'd look amazing!
Both the artichokes and vase would shine, stunning shapes complimenting each other.
Mix it with some textural earthen ware pots filled with figs and you have yourself a very tempting beautiful piece of art. I'm thinking your kitchen island or dining room table, what do you think?
Inspire Me!
Botanical Styling: History – Interiors – Gardens
"A room full of warm colours with richly textured fabrics, flashes of natural wood paneling and muted glamorous metals and patterned ceramics".
"Flowers collated from the garden and hedgerows loosely arranged with billowing foliage in fabulous water tight vessels of all shapes and sizes".
"Light streaming through a large open window onto a tapestry of green, textured foliage created by a vast array of plants clustered together around a comfortable chair waiting for you to grab a book, read and loose yourself for a while in fantasy!"
I love my romantic ideals for a bygone era, of ladies arranging flowers bought to them by the gardener who has tenderly nurtured them from seed or bulbs, of orangeries filled plants of every different type and size, of glamorous drawing rooms serving afternoon tea in front of the fire.
Impressive homes used for grand social occasions all dressed up to impress, chic and glamorous parties with gentleman in tails and ladies in swishing silk fabrics and sparkling jewels.
I know I'm being idealistic and concentrating on alluring social history but it's walking around a national trust home, reading a period novel or watching a period drama that fuels my imagination and inspires my floral creations.
I always watch a period drama with one eye on the interior style, the fabrics, colours and textures.  I love looking at the gardens, buildings, the extra attention to detail, the fashion of the day.  Often I'll say to my husband, 'look at that lamp, it's stunning', his response is 'what lamp'!  Who else can relate to this?
Our interiors and lifestyles are my inspiration, not just how everything looked and felt but also the ethos of living seasonally; letting nature be your inspiration.   Before commercialism and the culture of have it all now over took our lives.
Historically styling your home with flowers followed the seasons; you used what you or your gardener grew, thus inviting the season's colour into your home, something I love and try to do.
Spring is fresh and clean, new beginnings, hope and the gardening year awakening.
Summer is a pastel palette of cottage garden flowers, mixed with textural blousy foliage
Autumn is earthy and muted, not a bright orange pumpkin in sight!
Winter is deep, rich and textured, warm colours with sophisticated Christmas sparkle.
My background in garden and planting design also influences my floral choices through the seasons, also the connection of your home and garden style. Low, pretty cottages with riotous cottage gardens, sprawling estates with walled kitchen gardens, upright town houses with stylish courtyards and contemporary homes with clean lines and minimal planting.  They are all inspiring and help create mood and feelings within floral design, connecting your flower choices to your surroundings.
Style and colour is so personal, being true to myself, I prefer natural colours, earthy tones that are rich but gentle; I love working with toning colours that harmonise rather than contrast.   Floristry training is taught with the colour wheel, my inspirations come from a Farrow and Ball colour chart!   All those colours to match flowers too!!   My home is full of antiques, period lighting and strong carefully chosen colours to match its Edwardian history. And I truly believe we are all custodians of our homes and surrounding area with a responsibility to keep it true to its period; mixing modern lifestyles sympathetically with history ready for the next lucky custodian to add their stamp to history.
Homes, styles and fashion are all linked within each and every period; your own style and colour preferences are personal; my own inspirations and creativity definitely lie in historic homes and interiors through period drama and a love for visiting historical homes and for all things that belong in yesterday.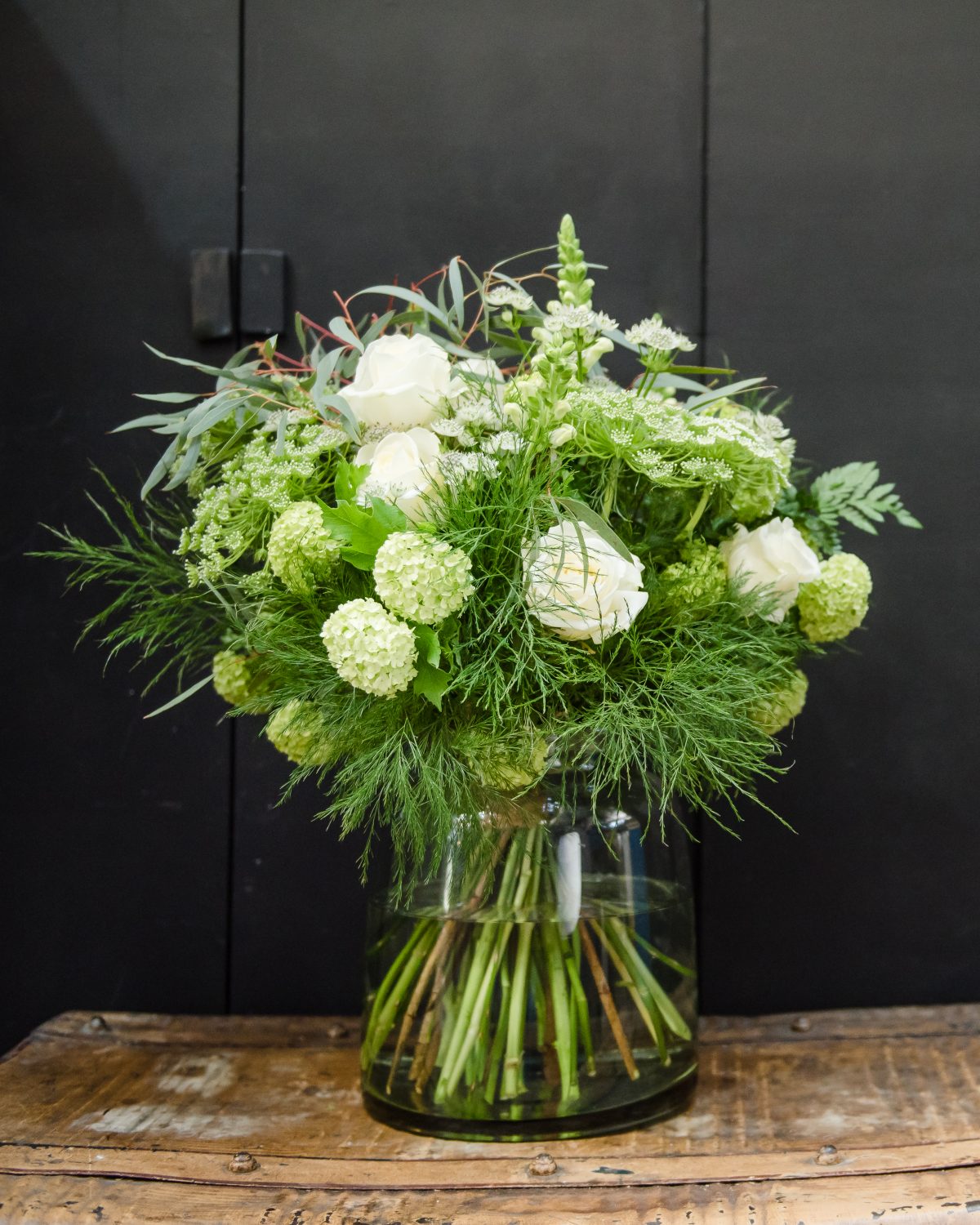 Longer Lasting Flowers
Tips for Longer Lasting Flowers!
We all want our flowers to look good for as long as possible, whether you picked them from the garden or popped to your local florist for your flowery fix.
IF YOU ARE BUYING FLOWERS from your local Shrewsbury florist your flowers should be fresh and well conditioned for you.
Conditioning simply means the flowers have had their lower foliage removed; they will be cut at a 45-degree angle and had a good long drink in cool water with flower food.
Once you arrive home get your flowers into water before you take your coat off!
IF YOU ARE PICKING FLOWERS FROM YOUR GARDEN have a bucket of deep water ready so you can pick and drop them into the bucket, leave them for a good two hours in a cool place before being tempted to arrange them in a vase.
VASE LIFE!
Use a clean vase; even if you cleaned the vase before putting it away re clean it with bleach and water.  The smallest bit of bacteria will affect your flowers and shorten their life.  Rinse your vase well and fill with tepid water.
Add your flower food packet or better still make your own use 2 tablespoons of lemon juice, 1 tablespoon of sugar and a teaspoon of bleach.
Re-cut the stems at a 45-degree angle, cutting them at this angle means they don't sit on the bottom of the vase, it allows them to be able to take up water successfully.
Remove the leaves that are going to be below the water line, foliage in the water breaks down and causes bacteria to grow which will contaminate your flowers very quickly.
Enjoy arranging your flowers and keep them away for a direct heat source, direct sunlight and your fruit bowl – ripening fruit will do just that to your flowers!  Fruit emits a gas called ethylene that causes flowers to age more rapidly.
Change the water in your flowers and snip the ends frequently, at least every other day.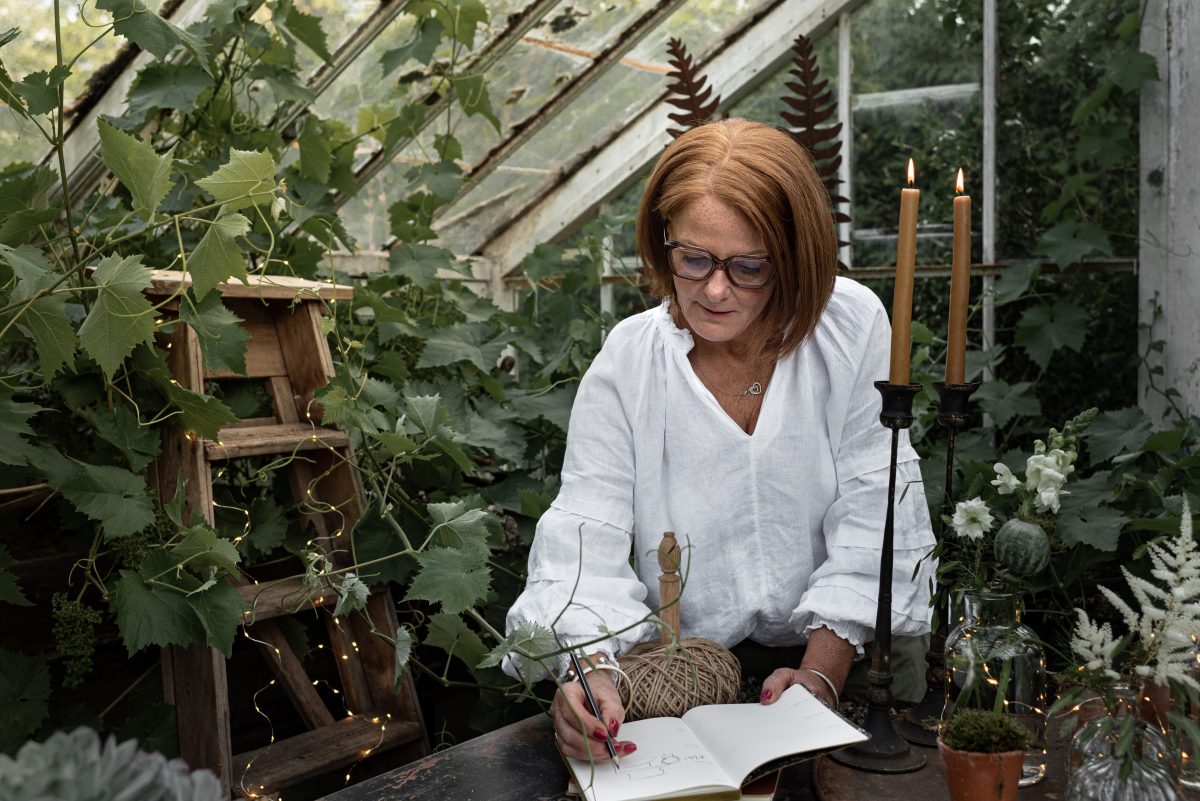 Eek..World Book Day!
My World Book Day confession!
I was (mostly!) a good mama bear with my boys when it came to dressing up as a book character for world book day.
I say mostly because one year I forgot. Driving to school the penny dropped and I had twenty minutes, an old cereal box and sheet to make two costumes, not my finest hour!
I did make up for it the following year with an Elmer the Elephant costume but on the whole as a working mum I loathed this day.
You thought you'd done a good job until you got to school and they'd be a parent smiling on as their child stepped out of the car looking like they were ready for a stage production.
So when my daughter went to school she was always mysteriously 'sick' on World Book Day ?. We used to spend the day in PJ's and read while eating our body weight in chocolate!
A lot less stress and school never twigged on to my sloppy parenting…!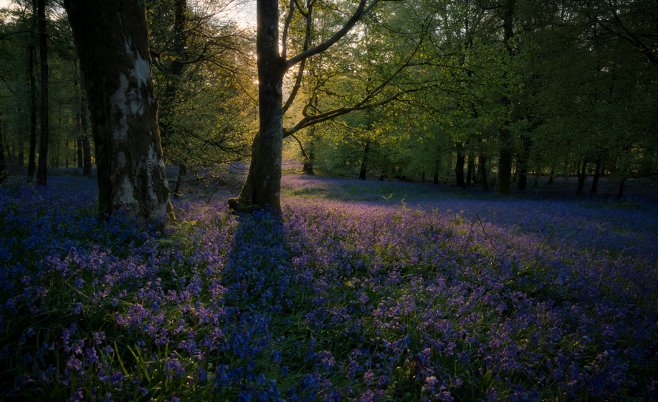 March into the New Year!
In the floral, botanical and horticultural world, March is very much our New Year.
 Spring is coming and it's the time of new beginnings, hope, fresh starts, lighter longer days and life starts to feel better.  Bulbs are pushing up through the ground and the trees start to unfurl their leaves, produce pretty blossom with birds singing us a tune to make us get up and show up.
What's not to love about this time of year?  I have a March birthday too so it's win win for me!  We feel ready for anything!
The planning for the year in January is done, the boredom of accounts is complete and I've taken a sunny holiday although this year that was but a dream!
For me it is a month for shaking up and waking up the shop, we'll have a change around, a fresh coat of paint, and a good spring-clean ready for houseplants to make their return to the shop after winter.  Inviting all that green foliage back into Botanique fills me with such excitement and I absolutely love unpacking them all, teaming them up with new ceramic pots and sea grass baskets helping you discover your dream combination.
Excitingly the colour palette explodes, fresh and vibrant as the British flower market wakes up bringing us some of our favourite flowers; our homes feel brighter and welcoming with a simple vase of tulips gracing a kitchen worktop or table, they bring a smile and lift your wellbeing.
And, of course, March sees us celebrate and honour our mothers; Mothers Day is Sunday 14th March, one of the busiest days in the floral calendar.  All the planning in January and February come to fruition, we madly make bouquets into the night so lets hope we can see our mums this year and actually hand over our flowers and spoil her the way she deserves.   For me it's a day of not only spoiling my mum but being spoilt by my children now they are older and are able to cook me lunch, fingers crossed!
So March is very much a time to wake up from our winter slumber, take off the thermals and spring into brighter days with a cheery smile knowing longer warmer days are ahead of us.